The Wondertrails has a team of nature lovers and adventure enthusiasts who are professional trekkers and motorbike freaks.
Sanjeev Srivastava
Graduated from IIT Roorkee, worked in the corporate world for 30 years.
Has done more than 30 treks in Himalayan mountains.
Trained in Basic mountaineering course from Nehru Institute of Mountaineering.
An avid nature lover, he has wide knowledge of adventure activities ranging from trekking and mountaineering to wind surfing to snow skiing to white water rafting to scuba diving.
His MNC experience makes him proficient in planning and execution, documentation and coordination, and health and safety aspects.

Dhawal Karia: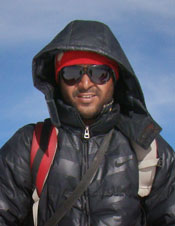 Professional training in rock climbing
Basic, advance, coaching and artificial rock climbing training done from mount Abu, Swami Vivekananda institute of rock climbing, Gujarat government
Basic and advance ice and snow climbing course done from Manali
Has climbed the highest peak of ladakh- LanghsherKangri, altitude 21900 feet
Has worked as a camp leader in many youth hostels camp
Biking expedition.....Has been a part of bike expedition in 2009 conducted by youth hostel- 120 bikers.....official recorded the trip in limca book of records as highest number of bikers on top of Khardungla top, the worlds highest motorable road....
Did a solo bike trip to marsmik la pass in 2010 the highest motorable mountain pass in the world at an altitude of 18600 feet.....

Rushil:

Bachelor in Forestry along with forestry training in whole Gujarat and north Indian forests
Trekking and nature education camp instructor in WWF
2 yrs experience of rock climbing Instructor with Rock zone at Mount Abu
Adventure instructor in international kite festivals and Carnival for last 3 yrs and at BIR colonels retreat and Resort Kangra valley
Instructor and guide with Anala Outdoors and other organizations

Vishnu Joshi:

Associated with the team as Mentor and advisor
Has worked as a camp leader in many youth hostels trekking and cycling camps
Has done more than 15 treks in Himalayan mountains
An avid nature lover, he has organized several nature study trips for school children as well as adults.
Very experienced trek organizer and motivator.